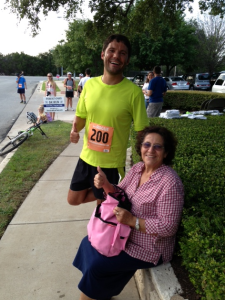 Today I ran a 5K race in Cedar Park, TX. It functioned as a kick off for my running training. It was the first time to run in a long time as I've mainly focused on swimming during the last few years.
Today's race was also a barometer for my running fitness. My goal was sub 25 minutes. I finished in 22:27. Even though today's finish time paled in comparison to my personal best of 16:34 (on track) and consistent sub 19 minute 5K's of a few years ago, I was pleased to run 2 minutes and 33 seconds faster than what I purposed or anticipated for the day.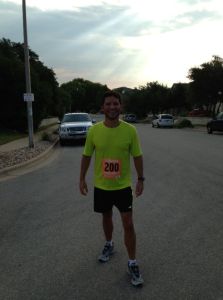 I expect to finish next year's 5K race in less than 19:30. That translates into running each mile a minute faster. Each quarter of a mile, 15 seconds faster. Each 100 meters, 4 seconds faster. I can do it. I will do it. So be it.
"I can do all things in Christ who gives me strength." (Phil. 4:13)
(Pictures: mom rooting for me at the finish line and walking back to the car with the sun peeking through the clouds.)